| | |
| --- | --- |
| | Puppies |




Smith & Jones
123 Main Street
Anytown, NY 20317
USA
(212) 555-4321
(212) 555-1234 fax

Send Us

E-mail

© Copyright 2011
Smith & Jones,
Breeder and Kennel
powered by Website2Go.com
All Rights Reserved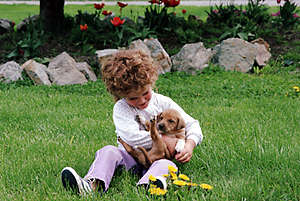 Breeding Shepherds, Beagles and Bernese Mountain Dogs is a solemn responsibility.

It requires deep knowledge, constant study and extreme diligence to produce consistent quality. It's vitally important that breeding dogs, especially larger breeds, have good hips. Every dog we breed and breed to must either be OFAed (Orthopedic Foundation for Animals tested) or have been preliminary X-rayed.

Smith & Jones has experience of nearly 40 years, and several national championships. We know what people want and deserve from their dogs. With our puppy, you benefit from the knowledge and experience of our expert breeders and dog lovers, who prove the worth of their credentials every day.

All our breeding dogs come from a sound, proven and thoroughly researched genetic pool. Before being bred, every dog must pass obedience, agility and protection training. It must be emotionally sound, of good disposition, and have a perfect health record.

Our pups are all well socialized and temperament tested. We spend a lot of time with each individual puppy. We learn each one's habits, disposition and temperament. That is why we can choose your special puppy.

We will always be happy to work with you and your new puppy, as it becomes a very special dog. We will help you guide your dog's development and help you build a special place in your heart for your dog.

Many of our puppies come back home with us for beginning or advanced training. We will always welcome them and we welcome you.