| | |
| --- | --- |
| | Dog Training |




Smith & Jones
123 Main Street
Anytown, NY 20317
USA
(212) 555-4321
(212) 555-1234 fax

Send Us

E-mail

© Copyright 2011
Smith & Jones,
Breeder and Kennel
powered by Website2Go.com
All Rights Reserved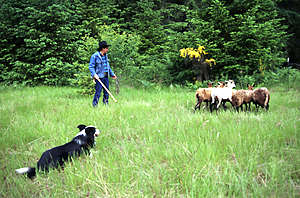 Along with kennel services, breeding services and pet resources, we've successfully trained over 1,000 dogs over the past 30 years.

Good quality training comes with varied experience. The more differences in dogs you train, the more knowledge you accumulate.

The key to success in dog training is in the training of a variety of temperaments, characters, characteristics, personalities and problems. Each dog is an individual. Each dog requires a different level of success, for a number of reasons:

The owner's goals.
The dog's temperament.
Existing problems with the dog, if any.
The environment in which the dog lives.
The dog's age.
The physical condition of the dog.

To say a dog is trained only means that the owner is completely happy and satisfied with his or her dog, whether the dog has been trained for tracking, obedience, protection, or to be a loyal and trustworthy pet. The dog should leave its training at least as happy and well adjusted as when it started.

Types of training we offer:

Obedience on and off leash
Personal protection
Search and rescue
Agility
Custom work you require

We can work with you and your dog in several ways:

You can send your dog to us.
As many educational processes as you like.
You will receive progress reports.
When training is complete, you can spend time with us and your dog if you ike, learning how to work with your dog.
You can attend group training.
You can receive private lessons.

Effective training can be given to a dog from the age of eight weeks. It is best for the owner and dog to start training before bad habits become deeply ingrained.

We will train your dog for as long as it takes until the dog responds to all of the commands. We will train any dog of any breed, age, temperament or size: From a Chihuahua to a Great Dane, and always with love, affection and kindness.
We specialize in the stubborn, hard to train problem dog - those that are not housebroken, are overly destructive, or those that have developed the unruly habits of jumping, biting or pulling on a leash, etc.

Our training will adapt your dog to your life style and not the other way around. You will have a dog that is always under control whether at home, outside, or around distractions such as other dogs, cats and children.

Costs vary for our various services and types of training. Please call us at (212) 555-4321 or e-mail us for more information.